Storage
We offer vaulted storage at our storage facility in Arlington Massachusetts.Each wooden vault contains 245 cubic feet of goods and is 7.5 feet tall, 7 feet long and 5 feet wide. A vault typically holds about one room's worth of goods. Apartments usually take 2-4 vaults and single family homes 4-8. Once we have a list of your goods we can estimate how many vaults we'd need.
Vaulted storage is the most convenient and secure method for storing your goods. Your furniture is blanket wrapped in your home, inventoried and then brought back to our warehouse and packed into vaults. Vaulted storage also means that the liability coverage you can elect covers your goods while in storage. That means your goods are covered from when they leave your sight, until you're reunited.
Storage Rates
We charge $75/month/vault.
We charge $50 per oversized-item/month (individual items that won't fit safely in a vault).
We also charge a one-time setup fee of $100 per vault and $75 per oversized item that covers unloading from our truck, loading the vault, and stowing it in the warehouse.
Released value coverage is available at no extra charge
Replacement/Repair coverage is available for $12/month for $6000 and $2/month per $1000 above that ($20,000 would cost $40/month for example).
We require at least 48 hours notice if you need access.
We charge $55 per hour for an attendant to work with you while you access the vaults on our premises with a one hour minimum.
We don't pro-rate but we do offer a 5 day grace period.
this is what loading a vault with boxes looks like to give you an idea of what fits and how we go about it.
these are full and empty vaults and an example of how we pack them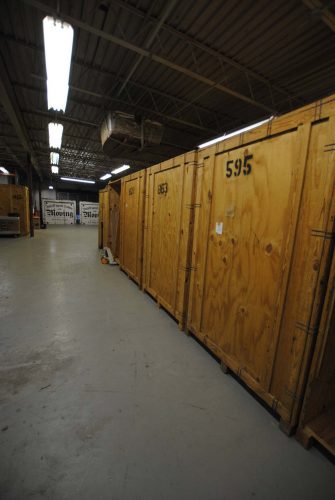 as you can see, we're not just using stock photos, we store your goods in OUR warehouse