Moving Rates
At Intelligent Labor and Moving we pride ourselves on our simple moving rates and charges. We don't like surprises, and I doubt you do either. We have all of our moving rates and other charges broken down here on the site. There's no additional charge for weekends or holidays. We calculate time from when we leave our shop in Arlington until when we expect to return, and we round to the quarter hour.
Two Movers
$120

per hour
includes 14′ truck
$40 material charge
Three Movers
$165

per hour
includes 24′ truck
$50 material charge
Addt'l Workers
$55

per hour
trucks as needed
materials as needed
Interstate Moving
flat rates

direct expedited
exclusive loads
no subcontractors
What should I know about moving?
All of our moving rates and rules are outlined in our Tariff which is filed with the Massachusetts Department of Public Utilities Transportation Oversight Division (our regulatory agency a/k/a "MDPU"). The document it's self is available via email upon request.
We offer Replacement Value Protection at a cost of $54 per $6000 of coverage and Released Value Coverage ($.60/lb) is included in the hourly moving rate.
Packing is charged at the same rate as moving. Packing materials (aside from stretch wrap, mattress bags and other moving oriented materials) are also charged for, find the pricing for those materials here.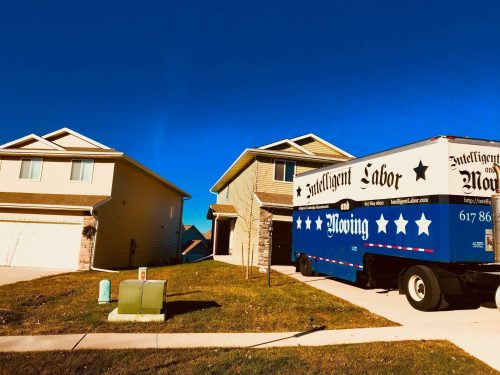 Hoists

Hoists

On occasion when moving, items can't fit up a stairway, a hoist is another possible option. This involves wrapping the furniture and fitting straps by which we pull the item up to a window or balcony. For such hoists we charge $75 for the first item and $25 for each subsequent item, plus the time it takes to perform the hoist.

Safety

Sometimes it is not safe to hoist an item. We will never do a hoist in rain or snow but we can always reschedule the hoist for better weather. If we determine that the structure of the building is unsound in some way we will not do a hoist. For instance, if a balcony railing is rotted we will not proceed. Also, if there is a tree or electrical wires in the way or the window we need to use requires carpentry to remove it that will also stop a hoist.

OSHA

OSHA requires a railing capable of holding back 200lbs of force and be 42″ high for us to perform a hand hoist to. If we're working through a window whose sill is lower than 42″ we need to be able to perform the hoist standing beside the window frame. Most sofa hoists to windows aren't legal. We believe these regulations have been put in place to protect workers and ensure safe practices and we follow them. If a hoist can't be performed by hand we can either arrange a crane contractor or another solution. Quotes for those services are on a case-by-case basis if possible. For work where hoisting or crane work is the only work being done, we recommend hiring Titan Cranes.


Disposal

Disposal

Intelligent Labor Moving Company offers disposal services as a convenience for our customers. Often times in the course of a move, some things don't make the list for your new place. Be it scrap cardboard, a tv, or bagged up waste, we can "make it disappear". We work with a number of other companies to recycle as much as possible. We can provide specific quotes for recycling particular items. For goods that aren't suited to recycling, we charge a $4 per cubic foot dumpster fee. This fee, and any charge for recycling, is in addition to any load and unload times associated with the goods.


Parking Permits

Finding parking in and around Boston can be a challenge even with a compact car, let alone a moving truck. We advocate parking permits for all moves occurring in an urban area. We do this for multiple reasons. Parking is one of the variables when it comes to the cost of a move. If we have to park a few blocks away and walk a long distance, that's going to make a huge difference in the price. Conversely, if we can get an excellent parking spot very close to your entry, that will allow the move to be more efficient, and therefore economical.

Procuring permits both allow us to get a better spot, but also make the move more predictable. If we don't know where we're going to be able to park, it's impossible to formulate an accurate estimate. When there's a parking permit, we have a pretty good idea of how the truck will be positioned. If you would like us to take care of the permits we can do so for you for $125 in Brookline and Somerville, $80 in Cambridge and $175 in Boston.

Please also refer to our more in-depth study of parking options on our parking page.


Pianos

Moving Pianos

We charge an extra fee on top of our normal hourly moving rate for pianos and other excessively bulky or heavy items such as sub-zero refrigerators and safes. For items that are part of a larger move we have an additional $150 per item and $25 per flight. If the piano or other large item is the only thing being moved we typically offer a flat rate. The flat rates are based on the particulars of the move and do not include the extra fee mentioned above.


Overnight Storage

Overnight On-truck Storage

If you need to have goods we're moving loaded on one day, but delivered on another we can provide overnight storage at a cost of $200/night/truck, (based upon availability). This can be helpful if you have to be out on the 31st but can't move in on the 1st. Often times the closing dates for houses or condos necessitate a day or two's worth of on-truck storage. You can rest assured the truck(s) and your goods are stored at our facility in Cambridge and will be both locked and tagged with tamper-proof sequentially numbered security tags. We do not offer overnight storage from August 27th through Septmber 3rd.


After-hours moves

After Hours Moves

When moving between the hours of 7 PM and 6 AM we charge overtime rates. Any work that is done during those hours is subject to a $10/hour/mover charge. For instance, if your job is scheduled to start at 5 PM and has two movers assigned to it you would be charged $120/hour from 5 PM to 7 PM and $140/hour for any time after 7 PM that the movers work. The availability of after hours service is subject to both availability and safety.

On August 1st, our moving rates go up, below is a chart outlining our charges per worker per hour.
August 1st - 21st

additional $5 per hour per worker
$130/hr for 2 movers
$180/hr for 3 movers
$240/hr for 4 movers

August 22nd - 28th

additional $10 per hour per worker
$140/hr for 2 movers
$195/hr for 3 movers
$260/hr for 4 movers

Aug 29th - Sept 3rd

additional $15 per hour per worker
$150/hr for 2 movers
$210/hr for 3 movers
$280/hr for 4 movers
earlier arrival times for our 1st slot moves
parking permits are required